Maggie was my "big white girl " from South Africa. She was one of 5 bitches and 1 boy born to Nonsuch Cafe Late on the 10th July 2004. Her Dad is the well known and influential sire in CH Clussexx Show Me The Money. Ronnie Watt from Johannesburg, South Africa was this very special breeder.

Four of the litter arrived in the USA at the end of 2004.
These bitches were:
"Maggie" USA/Aust CH Nonsuch Zeffiroso (Tracey)
"Ouiser" CH Nonsuch Apassionata (Marianne Stone)
"AnaClaire" CH Nonsuch Vivacissimo (Helen Marshall)
"Snoopy" CH Nonsuch Scherzando (Doug Johnson)

All had very successful litters and produced over 20 Champions including The Painswick Puppies of 5 Champions.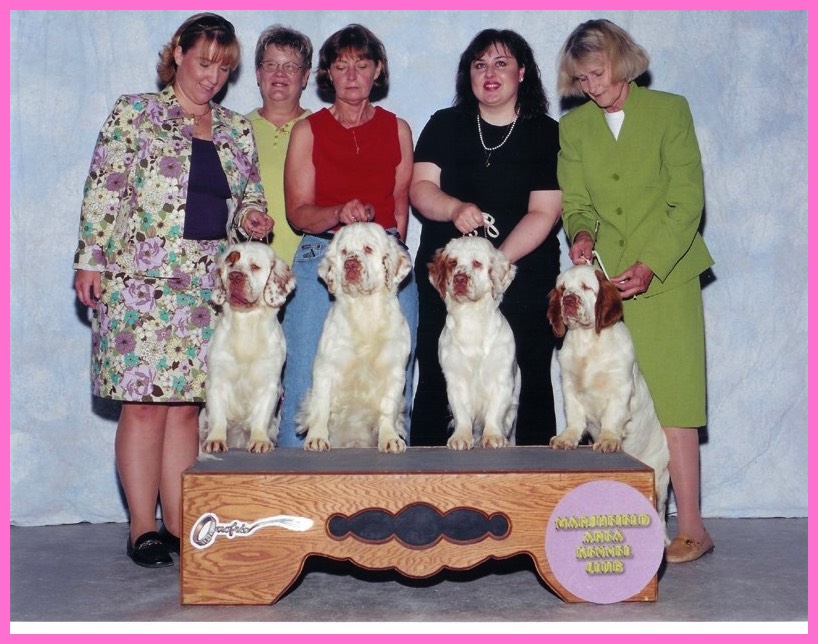 Left to right:
"Ouiser" CH Nonsuch Apassionata, "Maggie" USA/Aust CH Nonsuch Zeffiroso,
"AnaClaire" CH Nonsuch Vivacissimo and "Russell" CH Nonsuch Tradition